Home Page
Welcome to the new ZHS Class of 1957 website. This site will be a bit smaller than the previous site, but we hope the info is just what you are looking for!
For pictures of ZHS Class of 1957 Events, go to:  http://zhsclassof1957pictures.shutterfly.com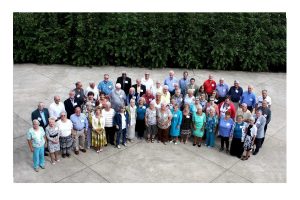 ZHS CLASS OF 1957 60TH REUNION
This past week-end the classmates got together to celebrate their 60th reunion.  It certainly doesn't seem possible.  But when we reflect about our lives and see how things have changed we realize that we truly did live in the best of times.  This class truly represents what life is all about and I for one am proud to be a member.
We began on Friday night at the Holiday Inn Express with a social get together and some classmates getting re-acquainted.  The committee members provided the food and we had enough to feed an army. A big thank you for all the hard work.  We had 39 reservations with a couple of cancellations and even was visited by a couple of 1956 graduates, Ed Walsh and Jim Hamilton and their wives.
We played a little game of 50's jeopardy with the guys against the gals.  I hate to admit it but the guys won.  The prize was for only bragging rights and that they did, but also wanted me to pay them the $128,000.00 they won.  I will as soon as I win the lotto, right?
On Saturday evening we went to the Virtues Golf Club in Nashport.  We had 98 scheduled to attend but we did have a couple of cancellations and a couple no-shows, but all in all it was a great turnout for a fun filled evening. Nancy Veyon Patterson made everyone her delicious pecans, and we thank her so much. Her husband, Robert Patterson, graciously took our class picture which will be available soon.
We had classmates travel quite a distance to be with us starting with Betsy Charles Sharp from Pennsylvania, Nancy and Bob Patterson from Virginia, Peggy Taylor Smith, Tony Courtney and Dick Gatchel from North Carolina, Tim Coffey from South Carolina, Dick and Becky Smith from Tennessee, Larry Hamilton from Mississippi and David Gale from Florida.  Ron Wetherell from Florida, who always attends, had a benign tumor on the brain and had surgery last month and we wish him well. I am not forgetting all the classmates who came from all over Ohio to be with us.  Thank you all for coming.
 We started with registration, pictures, a delicious dinner with a beautiful heartfelt benediction from Rev. Doris Jewett Flynn and an evening filled with the entertainment from the Remember Then Group. They truly entertained us with all our favorite 50's music.
We danced the entire evening or at least tried to.  Even with a walker, cane and lots of assistance we entertained ourselves until the legs would hardly go any further.  We promise to continue this nonsense as long we possibly can.   There will be pictures posted on our Shutterfly account.  If you are not a member, please join.
In addition to all the attendees we had 20 request for booklets from classmates who are unable to attend. So all in all, it was a fun time.  If you missed out don't worry, another party is in the works, so keep watching and we will let you know when the plans are completed.
God Bless The Class of 1957.  You are the best!!!!!!!!!!!!!!!!!!
ZHS CLASS MAKES ANNUAL DONATIONS OF $1,500.00
Mary Lou Fraunfelter Gantz,(Classmate), Mitzi Shook of Transitions, Inc., Jamie Trout of Eastside Community Ministry, and
Marlene Wiseman Jones (Classmate). Each charity a check in the amount of $500.00.
Glenn Moore, Glenn Lightfoot, with Mike Erichson (classmate) and Fred Nottingham of the VFW Post 1058 Honor Guard. The guard received a check in the amount of $500.00.
Lunches Continue!
The next monthly luncheon will be held on Monday, August 13th, 2018, at the Golden Corral, 1586 Northpointe Drive, Zanesville, Ohio from 11:30 A.M. to 1:30 P.M.  Please mark you calendars for the second Monday of each month. All classmates and spouses are invited to join us.
Please make sure you check out the ShutterFly page for more pictures: